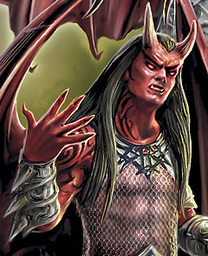 Cabal is a half-fiend hellfire warlock of the greatest skill. He is an old mentor and ally of Szek'Thuul's, who freed him from the demi-plane Black Sun where, he had been imprisoned by Dusk and the DeathQueen. After leaving Black Sun he traveled away from the heroes, strangly before the fight against the Deathqueen whom he wanted revenge against. He is now free and his whereabouts are unknown.
For history seeSzek'Thuul' s history.
Community content is available under
CC-BY-SA
unless otherwise noted.